SonoVue®
SonoVue® is a second-generation ultrasound contrast agent, designed and optimized for pressure resistance
As a result of many years of research and development conducted within Bracco, SonoVue® is a second-generation ultrasound contrast agent designed and optimized with regard to the resistance to pressure.
A quality product from Bracco Imaging
As a result of many years of research and development conducted within Bracco, SonoVue® is a second-generation ultrasound contrast agent designed and optimized with regard to the resistance to pressure. The research has led to the selection of SF6, a gas with a low solubility in blood for the gaseous phase of the microbubbles and to a phospholipidic monolayer for the shell. SonoVue® was first approved in the European Union under the centralised procedure on 26 March 2001 and is currently marketed in 36 countries worldwide.
Today SonoVue® can boast more than 1,000 peer review journal articles in the life sciences.
Physicochemical Characteristics
| | |
| --- | --- |
| ready-to-use suspension / vial | 5 ml |
| number of microbubbles / ml suspension | approx. 2 · 108 |
| gas content (SF 6) / ml suspension | 8 μl |
| mean diameter of microbubbles | approx. 2,5 μm |
| size range of microbubbles | 1 - 11 μm (90% < 6 μm, 99% <11 μm) |
| osmolality | approx. 290 mOsmol / Kg |
| viscosity | < 2 mPa · s |
| pH-value | 4,5 - 7,5 |
| stability after preparation | 6 hours |
1) Design of an ultrasound contrast agent for myocardial perfusion.
Schneider M.Echocardiography. 2000 Aug;17(6 Pt 2):S11-6. Review.
2) BR1: a new ultrasonographic contrast agent based on sulfur hexafluoride-filled microbubbles.
Schneider M., Arditi M., Barrau MB., Brochot J., Broillet A., Ventrone R., Yan F.Invest Radiol. 1995 Aug;30(8):451-7.
3) Characteristics of SonoVue®.
Schneider M.Echocardiography. 1999 Oct;16(7, Pt 2):743-746.
4) PubMed database
5) SonoVue® SPC
6) Contrast enhanced ultrasound for the characterization of focal liver lesions – Diagnostic accuracy in clinical practice (DEGUM multicenter trial)
Strobel D., Seitz K., Blank W., Schuler A., Dietrich C., von Herbay A., Friedrich-Rust M., Kunze G., Becker D., Will U., Kratzer W., Albert FW., Pachmann C., Dirks K., Strunk H., Greis C., Bernatik T.Ultraschall Med. 2008 Oct;29(5):499-505. doi: 10.1055/s-2008-1027806.
7) Contrast-Enhanced Ultrasound (CEUS) for the characterization of focal liver lesions - prospective comparison in clinical practice: CEUS vs. CT (DEGUM multicenter trial). Parts of this manuscript were presented at the Ultrasound Dreiländertreffen 2008, D
Seitz K., Strobel D., Bernatik T., Blank W., Friedrich-Rust M., Herbay Av., Dietrich CF., Strunk H., Kratzer W., Schuler A.Ultraschall Med. 2009 Aug;30(4):383-9. doi: 10.1055/s-0028-1109673. Epub 2009 Aug 17.
8) Contrast-enhanced ultrasound (CEUS) for the characterization of focal liver lesions in clinical practice (DEGUM Multicenter Trial): CEUS vs. MRI--a prospective comparison in 269 patients.
Seitz K., Bernatik T., Strobel D., Blank W., Friedrich-Rust M., Strunk H., Greis C., Kratzer W., Schuler A.Ultraschall Med. 2010 Oct;31(5):492-9. doi: 10.1055/s-0029-1245591. Epub 2010 Jul 22.
9) Prospective Multicenter Trial Evaluating a Novel Method of Characterizing Focal Liver Lesions Using Contrast-Enhanced Sonography.
Leen E., Ceccotti P., Kalogeropoulou C., Angerson WJ., Moug SJ., Horgan PG.AJR Am J Roentgenol. 2006 Jun;186(6):1551-9.
10) Real-time contrast-enhanced ultrasound in the evaluation of focal liver lesions: diagnostic efficacy and economical issues from a French multicentric study.
Tranquart F., Correas JM., Ladam Marcus V., Manzoni P., Vilgrain V., Aube C., Elmaleh A., Chami L., Claudon M., Cuilleron M., Diris B., Garibaldi F., Lucidarme O., Marion D., Beziat C., Rode A., Tasu JP., Trillaud H., Bleuzen A., Le Gouge A., Giraudeau B., Rusch E.J Radiol. 2009 Jan;90(1 Pt 2):109-22. French.
11) Monitoring RF ablation.
Solbiati L., Tonolini M., Cova L.Eur Radiol. 2004 Oct;14 Suppl 8:P34-42.
12) Is contrast-enhanced US alternative to spiral CT in the assessment of treatment outcome of radiofrequency ablation in hepatocellular carcinoma?
Ricci P., Cantisani V., Drudi F., Pagliara E., Bezzi M., Meloni F., Calliada F., Erturk SM., D'Andrea V., D'Ambrosio U., Passariello R.Ultraschall Med. 2009 Jun;30(3):252-8. doi: 10.1055/s-2008-1027727. Epub 2009 Mar 11.
13) Comparison of contrast enhanced ultrasound and contrast enhanced CT or MRI in monitoring percutaneous thermal ablation procedure in patients with hepatocellular carcinoma: a multi-center study in China.
Lu MD., Yu XL., Li AH., Jiang TA., Chen MH., Zhao BZ., Zhou XD., Wang JR.Ultrasound Med Biol. 2007 Nov;33(11):1736-49. Epub 2007 Jul 16.
14) Assessment of systolic left ventricular function: a multi-centre comparison of cineventriculography, cardiac magnetic resonance imaging, unenhanced and contrast-enhanced echocardiography.
Hoffmann R., von Bardeleben S., ten Cate F., Borges AC., Kasprzak J., Firschke C., Lafitte S., Al-Saadi N., Kuntz-Hehner S., Engelhardt M., Becher H., Vanoverschelde JL.Eur Heart J. 2005 Mar;26(6):607-16. Epub 2004 Dec 17.
15) The clinical applications of contrast echocardiography.
Olszewski R., Timperley J., Szmigielski C., Monaghan M., Nihoyannopoulos P., Senior R., Becher H.Eur J Echocardiogr. 2007 Jun;8(3):S13-23. Review. Erratum in: Eur J Echocardiogr. 2007 Oct;8(5):308. Cezary, Szmigielski [corrected to Szmigielski, Cezary]; Nihoyannopoulis, Petros [corrected to Nihoyannopoulos, Petros].
How to use it
Preparation of SonoVue®
SonoVue® is supplied in a kit containing a vial with phospholipids (lyophilised) in a sulphur hexafluoride atmosphere, a syringe pre-filled with physiological saline (0.9% saline solution) and a Mini-Spike transfer system.
The suspension must be reconstituted before application. Reconstituting the microbubbles is not a difficult procedure but it is important to follow the instructions carefully in order to achieve the optimal effect of the contrast medium.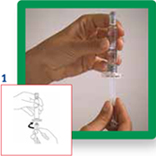 1. Connect the plunger by screwing it clockwise into the syringe.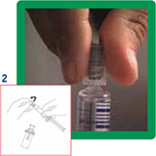 2. Open the MiniSpike transfer system from the blister pack and remove the syringe cap.
3. Open the transfer system cap and connect the syringe to the transfer system by screwing it in clockwise.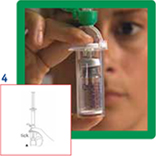 4. Remove the protective disc from the vial. Insert the vial into the transparent sleeve of the transfer system and press firmly to lock the vial in place.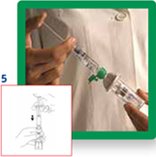 5. Empty the contents of the syringe into the vial by pushing on the plunger.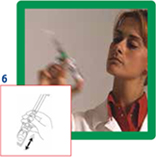 6. Shake vigorously for 20 seconds to mix all the contents of the vial into a homogeneous milky liquid.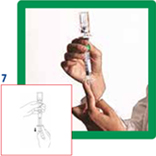 7. Reverse the system and carefully aspirate SonoVue into the syringe.
8. Unscrew the syringe from the transfer system.
Important: do not use if the liquid obtained is not clear and/or if solid parts of the lyophilizate are visible in the suspension.
SonoVue Video
- Preparation and Reconstitution
Indications
SonoVue® is for use with ultrasound imaging to enhance the echogenicity of the blood, which results in an improved signal to noise ratio5.
Echocardiography
SonoVue® is a transpulmonary echocardiographic contrast agent for use in patients with suspected or established cardiovascular disease, to provide opacification of cardiac chambers and enhance left ventricular endocardial border delineation5.
Doppler of macrovasculature
SonoVue® increases the accuracy in detection or exclusion of abnormalities in cerebral arteries and extracranial carotid or peripheral arteries by improving the Doppler signal to noise ratio.

SonoVue® increases the quality of the Doppler flow image and the duration of clinically useful signal enhancement in portal vein assessment5.
Doppler of microvasculature
SonoVue® improves display of the vascularity of liver and breast lesions during Doppler sonography, leading to more specific lesion characterisation5.
Special focus on liver and cardiac
SonoVue® in focal liver lesion characterization:
excellent efficacy results comparable to CT and MRI6, 7, 8, 9, 10
SonoVue® for guidance, monitoring and follow-up of percutaneous thermal ablation:
precise real-time visualization of needle positioning during enhancement phase with most accurate lesion depiction11
precise needle targeting of small lesions due to depiction of micro-circulation and parenchymal blood flow11
immediate assessment of ablation treatment results11, 12, 13
assessment of local recurrence/complete necrosis during the follow-up11, 12, 13
SonoVue® for endocardial border delineation:
baseline echocardiography significantly underestimates left ventricular volumes compared to cine ventriculography and cardiac MRI 14
contrast echocardiography is particularly useful when a reproducible and accurate measurement of left ventricular function is needed 15
Contact us
---
Please fill out the form below and we will get back to you.
DISCLAIMER

For any product or type of product, whether a drug or device, referenced in this website, physicians should carefully review the product's package insert, instructions for use, or user manual prior to patient administration to ensure proper utilization of the product. The local Summaries of Product Characteristics of the main Bracco Imaging products are available on line.

SonoVue should not be administered to patients with known hypersensitivity to sulphur hexafluoride or to any of the components of SonoVue. SonoVue is contraindicated for use in patients with recent acute coronary syndrome or clinically unstable ischaemic cardiac disease, including: evolving or ongoing myocardial infarction, typical angina at rest within last 7 days, significant worsening of cardiac symptoms within last 7 days, recent coronary artery intervention or other factors suggesting clinical instability (for example, recent deterioration of ECG, laboratory or clinical findings), acute cardiac failure, Class III/IV cardiac failure, or severe rhythm disorders. SonoVue is contraindicated in patients known to have right-to-left shunts, severe pulmonary hypertension (pulmonary artery pressure >90 mmHg), uncontrolled systemic hypertension, and in patients with adult respiratory distress syndrome. The safety and efficacy of SonoVue have not been established in pregnant and lactating women therefore, SonoVue should not be administered during pregnancy and lactation.